New Movement Disorders Clinic Caters to Hispanic Populations, Provides Unique Opportunities for Trainees
April 13, 2022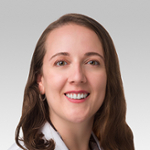 Northwestern Medicine opened a new movement disorders clinic this month that provides culturally sensitive care to Spanish-speaking populations as well as unique opportunities for medical trainees.
"It is very important to empower patients and their families to actively participate in their care," said Paulina Gonzalez-Latapi MD, MSc, who leads the Hispanic Movement Disorders Clinic.
Many NM patients prefer to communicate about their health care in Spanish or wish to include Spanish-speaking family members in discussions of their medical care, Gonzalez-Latapi said. Providing care in the patient's or their family's native language helps facilitate a more complete understanding of their diagnosis and treatment options.
Because of the clinic's emphasis on providing culturally competent care, patients who are fluent in English but identify as being of Hispanic descent can also find benefit in being evaluated at the clinic.
Tanya Simuni, MD, Movement Disorders division chief, said the new clinic falls in line with broader goals for the department.
"The launch of this program is an important step in our efforts to increase diversity, equity and inclusiveness for the population we serve," Simuni said. "I am very proud of the efforts of the team led by Dr. Gonzalez-Latapi that enabled this important initiative."
Gonzalez-Latapi said her involvement stems from a personal place. Originally from Mexico City and a native Spanish speaker, she said that "being a part of the Latinx community helps me understand the importance of receiving culturally competent care."
Gonzalez-Latapi also anticipates the clinic will help include more Hispanic participants in research efforts. Hispanic populations historically have been underrepresented in research, so neurologists' understanding of the onset and progression of different movement disorders in these populations is lacking, she said.
Feinberg students, residents and fellows familiar with Spanish medical terminology are encouraged to contact Gonzalez-Latapi for information regarding training opportunities. Because the clinic is a unique one in the U.S., it will provide opportunities for trainees to develop novel quality improvement and other research projects to better understand this patient population.
Although the clinic has only been open for a short time, Gonzalez-Latapi has already seen a few patients.
"It has been very rewarding to see their excitement at being able to communicate and ask all their questions in Spanish," she said. "The reception among medical staff at Northwestern Medicine has also been very positive, and everyone agrees that this is an important clinic to be able to offer."