Neurology residents close training chapter, prepare for new beginnings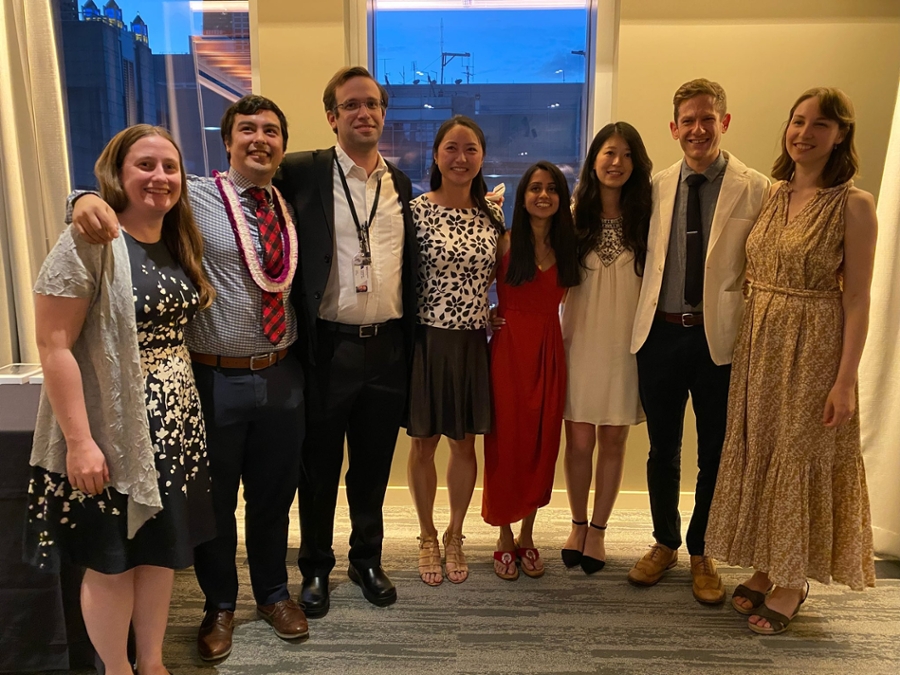 June 23, 2022
A new cohort of neurologists graduated from the Ken & Ruth Davee Department of Neurology's residency program in a ceremony held June 17.
At the ceremony, the department celebrated the achievements of eight neurology residents over the course of their program as they formally closed this chapter of their career development.
"We are so proud of our graduating residents, who impressed us at every turn while here at Northwestern," said Danny Bega, MD, residency program director. "But their successes won't end here, and we are so excited to see what great things they accomplish in the next phase of their careers."
The residents are moving on to prestigious fellowships at Northwestern Medicine, the University of California-San Francisco and Cleveland Clinic. Co-chief resident Brian Stamm, MD, will be sticking around for a stroke fellowship at Northwestern.
"It feels surreal to be graduating," Stamm said. "[Residency] has been an unforgettable experience with the best colleagues, co-residents, mentors, and friends. I gained invaluable experience as a neurologist and made lifelong friends along the way. I can't wait to start as a stroke fellow here in July." 
Residents and faculty were also recognized at the ceremony for their contributions to teaching, patient care and research. Awardees included:
John A. Kessler Faculty Teacher of the Year Award - Karan Dixit, MD
Resident Peer Recognition Award - Elizabeth Sugg, MD
Sally Marcinek Award for Compassionate Care - Toni Cao, MD
Nicholas Vick Faculty Teacher of the Year Award - Sam Ung Ho, MD
Ajay Sampat Resident Teacher of the Year Award - Toni Cao, MD, and Shubadra Priyadarshini, MD
Onur Melen Dedication to Education Award - Katherine Carroll, MD, and Marcello Cherchi, MD, PhD
Resident Dedication to Education Award - Deborah Huang, MD and Brian Stamm, MD
Resident Investigator of the Year Award - Sarah Brooker, MD, PhD
This year, the Dedication to Education Award was named for Onur Melen, MD, a longtime faculty member who retired last year but continues to train the next generation of neurologists. Meanwhile, the Resident Teacher of the Year Award was named for former resident Ajay Sampat, MD, an exemplary teacher who inspired numerous medical students during his years at Northwestern.
"Working with medical students was an incredibly rewarding part of my neurology residency," said Shubadra Priyadarshini, MD, one of two recipients of the Ajay Sampat Resident Teacher of the Year Award. "Having the opportunity to teach medical students, in lectures and in the clinical environment, was an enjoyable and critical part of my professional training."
The graduation ceremony concluded an academic year during which residency leadership announced that the program would support two additional trainees per year, raising program capacity to 10. To learn more about the neurology residency, visit the program website.